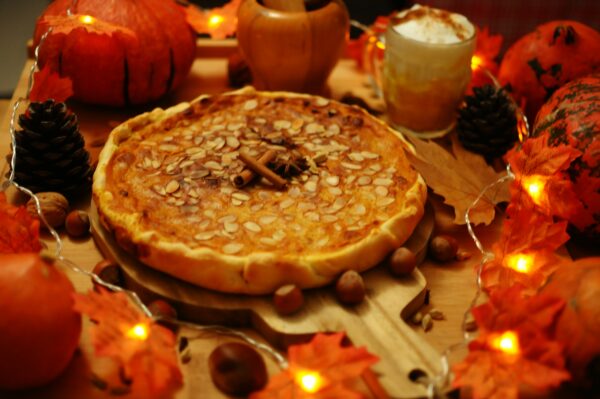 The Pumpkin Pie for a guaranteed Harry Potter atmosphere !
Note : I'm really sorry for my poor english half translated with google help. I hope everything is understandable and not too painfull for the eyes !
The first time I tasted a pumpkin pie, I won't hide it from you, I was … baffled. Dubitative. Yeah, I thought. Weird, though. Then I took another bite, then another. And with each bite, I liked it a little more. The result ? I am completely addicted to this wonder🥧🧡 which is now one of my fall must-haves. In addition, as a die-hard Harry Potter fan, I never tire of eating it while watching one of the films in the series, or rereading a chapter I particularly like, or even randomly !
Have you ever tasted? And try to make one? Here is the recipe tested and approved by my mouth and stomach !
🧡 The recipe :
First, make a shortcrust pastry, the recipe is >here< In my article on American apple pie, but I'll report it here, since unlike apple pie, we only need one dough for this recipe.
🍜 INGREDIENTS
FOR THE PASTRY CRUST :
215 g of flour
1 pinch of salt
140 g butter
1 tbsp. brown sugar
75 ml of cold water
In a medium-sized bowl, mix together the flour and salt.
Cut the butter into small pieces and crumble with the flour until you get a fine and slightly grainy texture.
Add the sugar and mix well.
Pour in cold water in several batches, mixing with a fork. Finish by hand and form a ball of dough.
Lightly flatten the ball of dough, wrap it in cling film and let stand in the refrigerator for 30 minutes.
For the filling
Approx 700g of pumpkin / squash / butternut / squash flesh = almost all types of cucurbits are suitable for the recipe.
3 small eggs (or two large)
50g brown sugar
15 g of vanilla sugar
1 teaspoon vanilla extract
Spices: to be honest, I never measure the dose of spices I put in, I do it off, we would say instinctively, and it's always delicious. To give an idea, I would say: 1 tsp of cinnamon + 1 tsp of 4 spices / spice mix for gingerbread + 1 tsp. Of cardamom.
20g of cornstarch.
240ml of whipped cream (if you have an electric whisk), otherwise whipped cream already made to integrate into the preparation but I could not tell you exactly what dosage in this case.
60 ml of milk (cow, almond, oat …)
As you wish: hazelnuts / Brazil nuts / pecans or others, crushed, to integrate into the preparation for a little crunchy side.
Slivered almonds for the top.
🍜 Instructions :
In a pot, with a base of milk or water of your choice, cook the pumpkin flesh until you obtain a nice puree (personally, I always keep a little of it to make a delicious pumpkin spice latte to savour with my pie 😉).
Add the spices and remove from the heat.
Spread the dough in the pie plate and preheat the oven.
In a bowl, mix the eggs, vanilla extract and sugar, then add cornstarch and milk, stir well.
Whip the whipped cream (or take the ready-made) and integrate it into the preparation.
Add the walnuts / hazelnuts, and mix everything well to obtain a fairly fluid homogeneous mixture.
Pour into the batter and scatter the flaked almonds on top.
Bake for about 45 min at thermostat 6-7 (regularly check the condition of the filling and the batter).
Once out, the pie should rest until cool completely, so about 3 hours (I know, that's a long time!).
Enjoy with pumkin latte, a scoop of vanilla and / or whipped cream!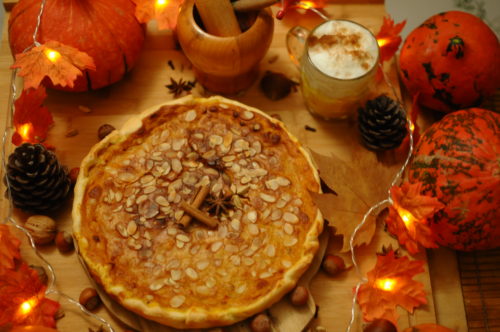 Bon appétit !
And tell me in the comments what you thought of the recipe, and if you have any improvement to suggest 😉