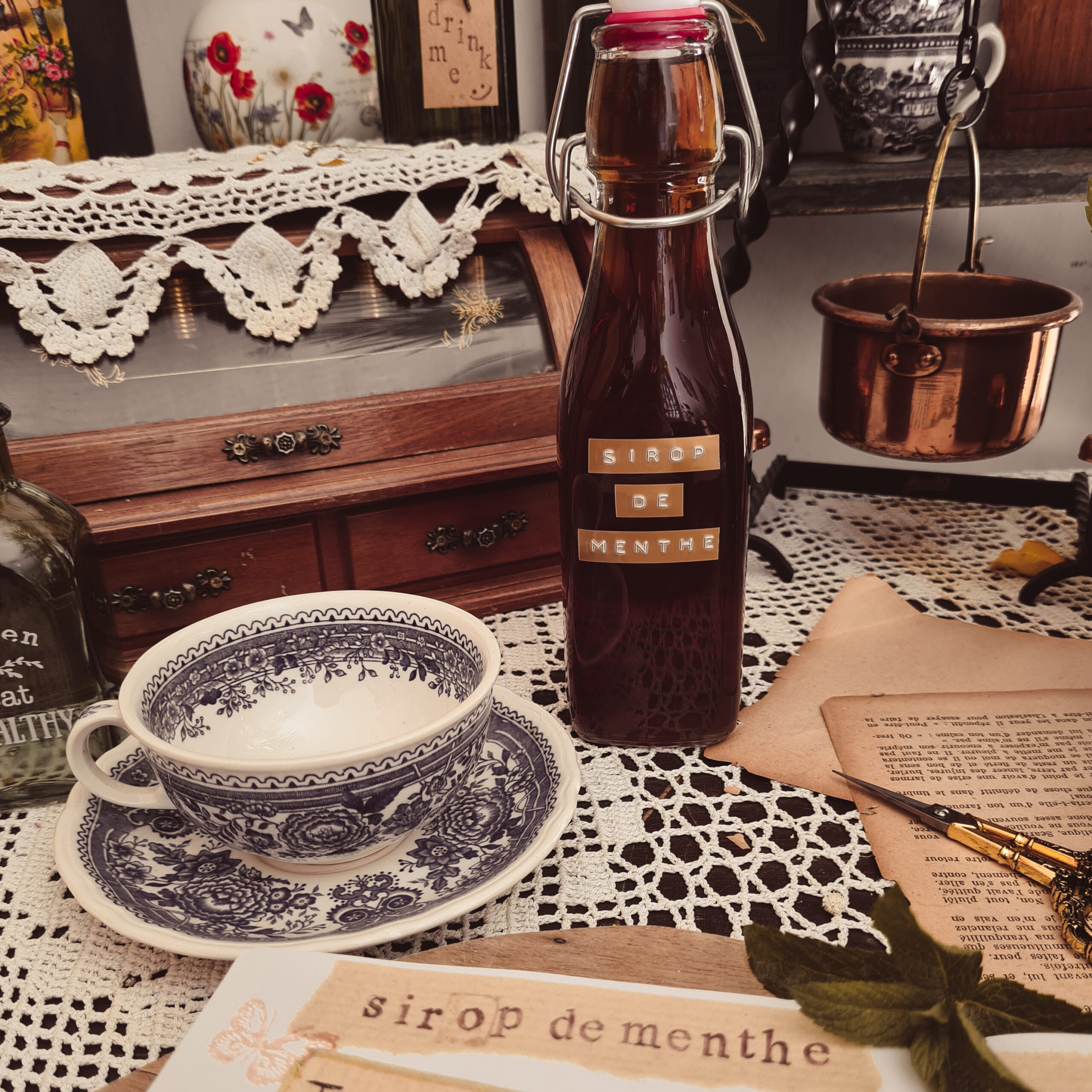 Homemade mint syrup, my summer essential.
Despite my addiction to tea and herbal teas, there comes a time in summer when even I can't drink so many hot drinks. I need fresh, lightness, and a little sweetness, but not too much. Since I am not at all a fan of industrial drinks ; sodas, syrups and so on, stuffed with sugar and additives, it is quite natural that I go towards homemade preparations, even more delicious and authentic. Among my favorites, we find iced tea, of which I will surely share the recipe with you one day, and, of course, syrups.
Thyme, rosemary, violet, mint, there is a plenty of choice in what you can do at home. Specially if you have your own garden. Well, I'm not going to lie either,I sometimes buy the commercial ones for the simple reason that my favorite of all is the peach syrup. To make this one at home, it's a different story, much more complicated and expensive unless you have a loot of peaches. If so, I actually eat them all before I get the chance to make any syrup with it. So, when it comes to quick and easy, and delicious what's more, the mint syrup wins the competition.
I was inspired, among others, by recipes from Grain de sel et gourmandise et Au four au moulin (in french, sooorry). It is best to do this recipe several times to see which amount of mint/sugar best suit your taste !
Without further ado, here is the recipe !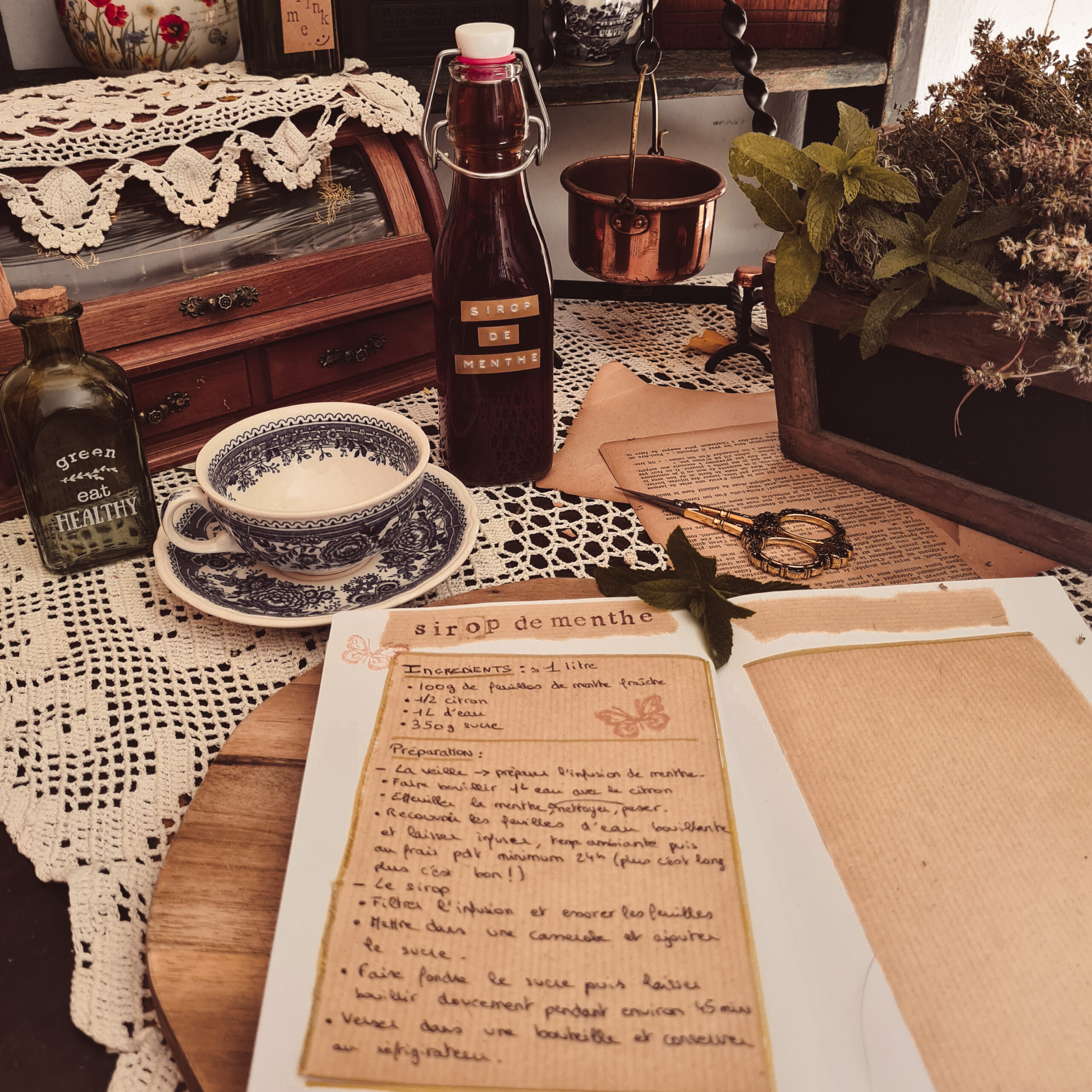 🌿 Ingredients: For 1 liter
About 150 g of fresh mint leaves (cleaned, without the branches).
1/2 squeezed lemon.
1 liter of water.
350g of brown or white sugar (personally I don't like putting a lot of it, but you can add more for an even more "syrup" effect and better conservation)
Bonus twist: You can add a little ginger or even a few sprigs of rosemary when brewing to give your syrup a special touch !
👩‍🍳 Preparation:
Note: The homemade mint syrup is not green, it is brown, for the simple reason that no colorant is used in the preparation 🙂
The day before : Prepare the mint infusion.

Boil 1 liter of water with the lemon juice.
Strip and clean the mint leaves.
In a salad bowl, cover the leaves with boiling water and let infuse at room temperature then, once the preparation has cooled, put in the refrigerator for at least 24 hours (it depends on taste, in my opinion the longer the better !).
The syrup : Filter the infusion through a sieve or cheesecloth and wring out the leaves.

Pour into a saucepan and add the sugar.
Melt the sugar then simmer for about 45 minutes.
Sterilize your container (bottle, jar).
Using a funnel, transfer your hot liquid into your container (if in a jar, turn it over to vacuum and keep your preparation longer without putting it in the fridge).

Bottled syrup will keep for about a month in the refrigerator.
Let me know what you thought of it in the comments, and feel free to suggest improvements.
🍹 I hope you enjoy it, along with a bright summer !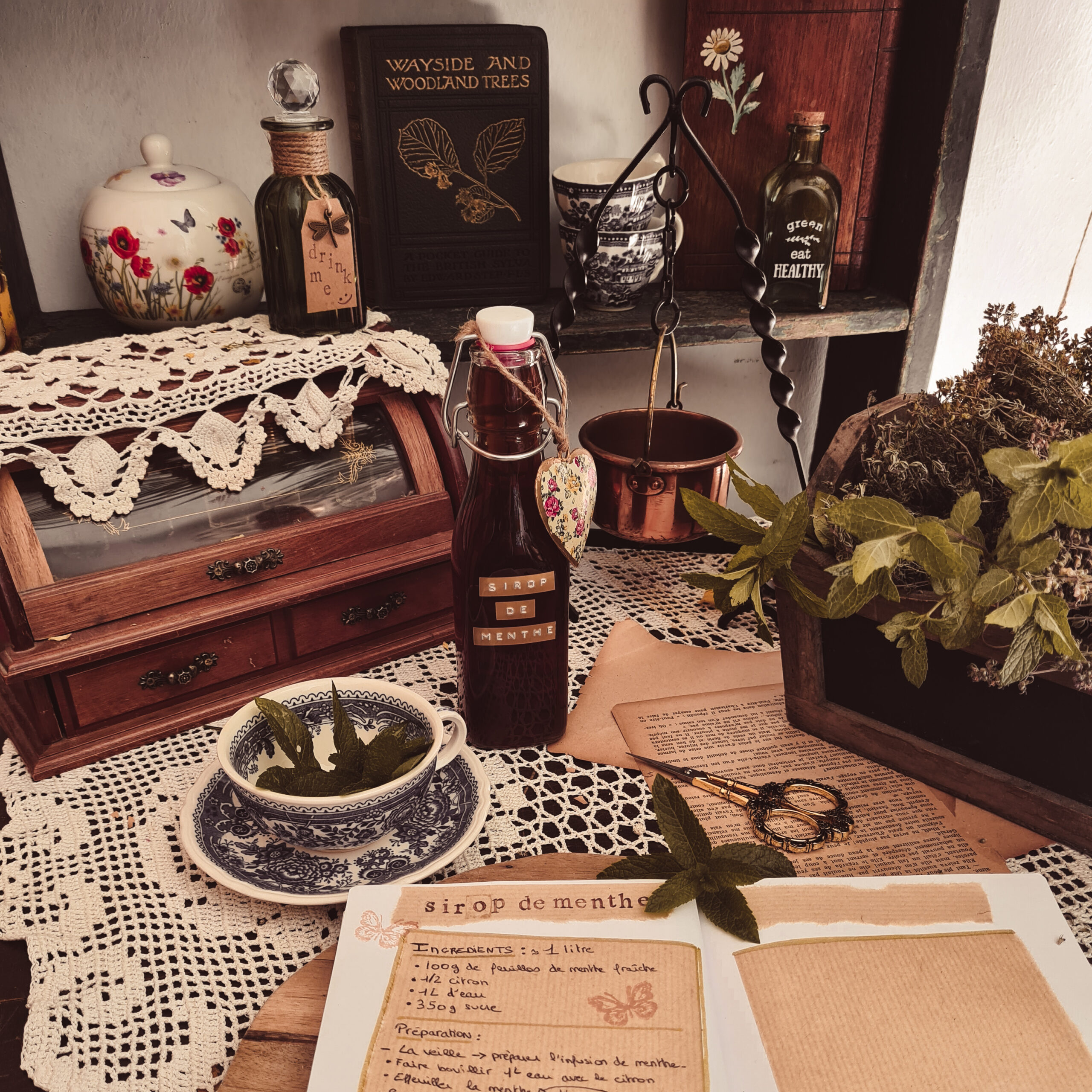 And for other recipes and seasonal delicacies, I invite you to take a look in the dedicated category of the blog >recipes< !